You couldn't wish for a better location on the Côte d'Azur. With Nice on your doorstep, you will be able to take advantage of all the attractions of the capital of the Côte d'Azur,  while being able to escape easily to the mountains on the road running along the Var. Easily accessible by air, road or train, Saint-Laurent-du-Var offers its visitors the charm of an authentic village with the lively of a seaside resort, firmly focused on the Mediterranean and its pleasures. « Playful City Award », « Taking Action for Energy » and P.R.I.T. for handicapped people. Dazzling and dynamic, this seaside resort, holder of the « third flower » and the special award for developing the city life environment, offers a landscape varying between modernism and tradition. To discover it, quality accommodations welcome you at preferential rates.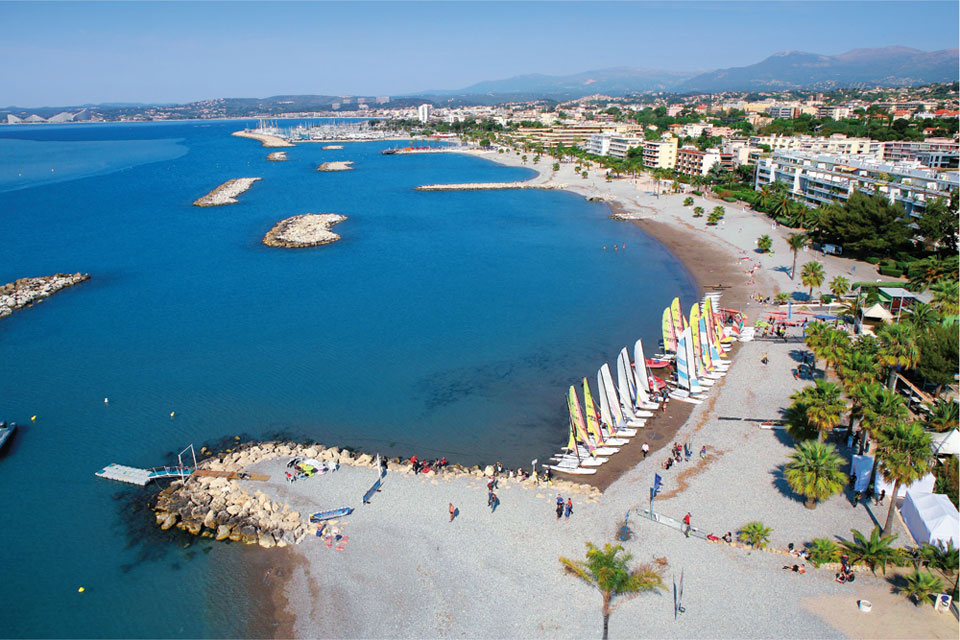 From the Esplanade les Goélands , the shopping center (more than 300 brand shops and restaurants) to the Promenade des Flots Bleus until the Marina, walkers can enjoy a completely pedestrian area, animated by restaurants, pubs, club, day and night. Variety of events gives you free appointment all year. 2 km of public and private beaches, you can practice all water sports like sailing, windsurfing, water skiing, catamaran, kayak, paddle, flyboard, scuba diving, fishing….
About heritage, the hold town with roman church of 11thcentury and various exhibitions of the Comité de Sauvegarde du Vieux Village (Old Village Committee) transport you in time. Local story is citrus cultivation and horticulture too.
Roses, carnations, citrus, groves, arang and olive trees gave to the town a lively tradition.